FIRSTLY;
I am not on my own computer, so I apologize for the photos here.
All can be viewed much better by clicking on them! K.S.
At last, I have painted a new work!
In the last month I have moved, flown to Winnipeg (for almost a week) to attend Bonnie & Aarons wedding (that just about didn't happen, but more on this later,) Visited with my family there, and returned to Alberta, and the calming peace of where I now live.
The new painting....
Field Poppies
Acrylics on Canvas

12" X 14"
I apologize for not cropping this picture, but I am not on my computer, and cannot figure out how to do it on the kids computer.
But one might think that a bit is better than nothing.
I am proud of this one, as the delicacy of the Poppies really shows in this work. I used four colours here.
Burnt umber/fire Red/light green and sap green
the effects were quite pleasing.
THE WEDDING;
Now Bonnie and Aarons wedding ......
If ever planning paid off for a momentous event, this time it did.
everything was in order, the colour scheme, the gowns/tuxedos, the flowers and the venue.
The colours that they choose were chocolate brown and the softest mint green.
and they were stunningly coordinated, even down to Bonnies bouquet which had green and cream roses in it.
The morning of the wedding which was to take place at Elmhurst Golf course (at 4:00pm)
began Sunny, and turned to clouds and then to showers and then to a downpour and then to torrential rain.
By the time for the bride to arrive at the venue, all the power was knocked out and the whole area was without light/electricity and a sea of water.
the food for dinner was waiting to be cooked, the cocktail hour was cancelled as there was no way to serve them and the guests waited patiently in the beautifully decorated dining room.
Luckily for the kids the power company was on the situation, and the guests were patient.
At 5:30 pm the Justice of the Peace said....
"We came for a wedding, and a wedding we will have" and proceded to comandeer the bar of Elmhurst that had wrap around windows, moved a squillion candles into that area and moved everyone into that room for the ceremony!
And what a beautiful ceremony it was.
Through all the adverse conditions Bonnie and Aaron were married finally.
One wonders of the Powers that Be, and what is the meaning of signs, as in the middle of the ceremony the lights finally flickered on went out only to come on for good finally!
Yes, we not only had lights but we had complete power.
Cocktails were served as the Chef and his many wonderful helpers got to work on dinner, and eventually dinner was served, and again, it was excellent.
Bonnie was lovely in a wonderfully beaded strapless gown of white Peau de sois.
It had a princess train and was so befitting her and her personality!
Of course Aaron looked wonderful in his chocolate brown Tux. (He complimented Bonnie so well)
The wedding cake was fondant covered Red Velvet cake and in itself was a work of art.
With dinner done and after the speeches while cocktails were being served familys all bonded to enjoy thenselves so very much and join two into one.
Well done Aaron & Bonnie, everyone will never forget the wedding that was determined to happen and the wonderful union of two people that we all love dearly!
Bonnie dancing the first dance with her dad,my wonderful brother-in-law Glen....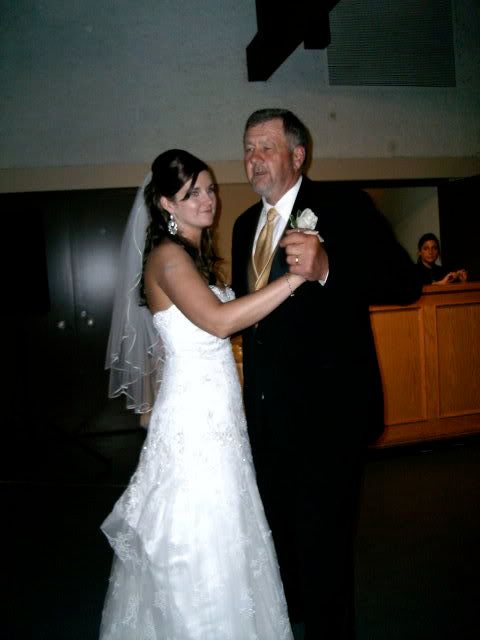 Later when I am back on my own computer, I will upload family pictures, and photos of the wonderful 65th birthday party my brothers & sisters threw for me when I was in Winnipeg.
It was good to reconnect with my brothers & Sisters and their families.
Time is all too short, and as an addendum, I got to meet Great Nephews and Nieces that I had not had the pleasure of seeing before.
What precious little people you all are.
What wonderful parents you have and how well they are doing with raising wonderful little human beings.
For the time being, I do want to thank Cheryl and Bernie for the wonderful stay that I had with them during my visit.
You both made a week of my life more meaningful!
Love to you both.
~~Kathleen